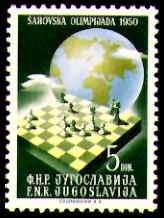 We are grateful to these advertisers for their support. We hope that you check out their stock, and we add this additional free reference to them:

Westminster Stamp Gallery (We buy and sell topicals!)

QualityStampsforLess (France and Former French Colonies)

Phildom Philately (Chess pages and supplements)

Member Classifieds:

Three-line classified advertisements are free to all COSSU members:

WANTED: Full sheets of chess stamps including selvage. Perforated, Imperforated, CTO. I also have sheets to trade. F.B. Redway, 6922 N.W. Daffodil Lane, Port St. Lucie, FL 34983

WANTED: Pre-WW2 Correspondence chess cards, early chess ephemera,
collections. Please request my want and sale list. Jon Edwards jedwards@princeton.edu

BUYING/SELLING/TRADING: Chess philately and ephemera including: Stamps, covers, cancels, postcards, trade cards, photographs, autographs, etc. + whole collections. Richard Benjamin, richbe1@att.net (404) 512-1583

Advertising rates for the ChessStamp Review

Back cover $30; Inside back cover $22; Other full page, $15; Half page, $8. If prepaid and non-changing, six units for the price of five. Rates apply to camera ready copy. Typesetting and/or layout are extra.

All advertisers in the ChessStamp Review will receive a free ad and link on this page.